THIS WILL CRUSH YOU – SOTE + YAO BOBBY & SIMON GRABB + TEMP-ILLUSION
19 octobre-19 h 00 min

-

1 h 00 min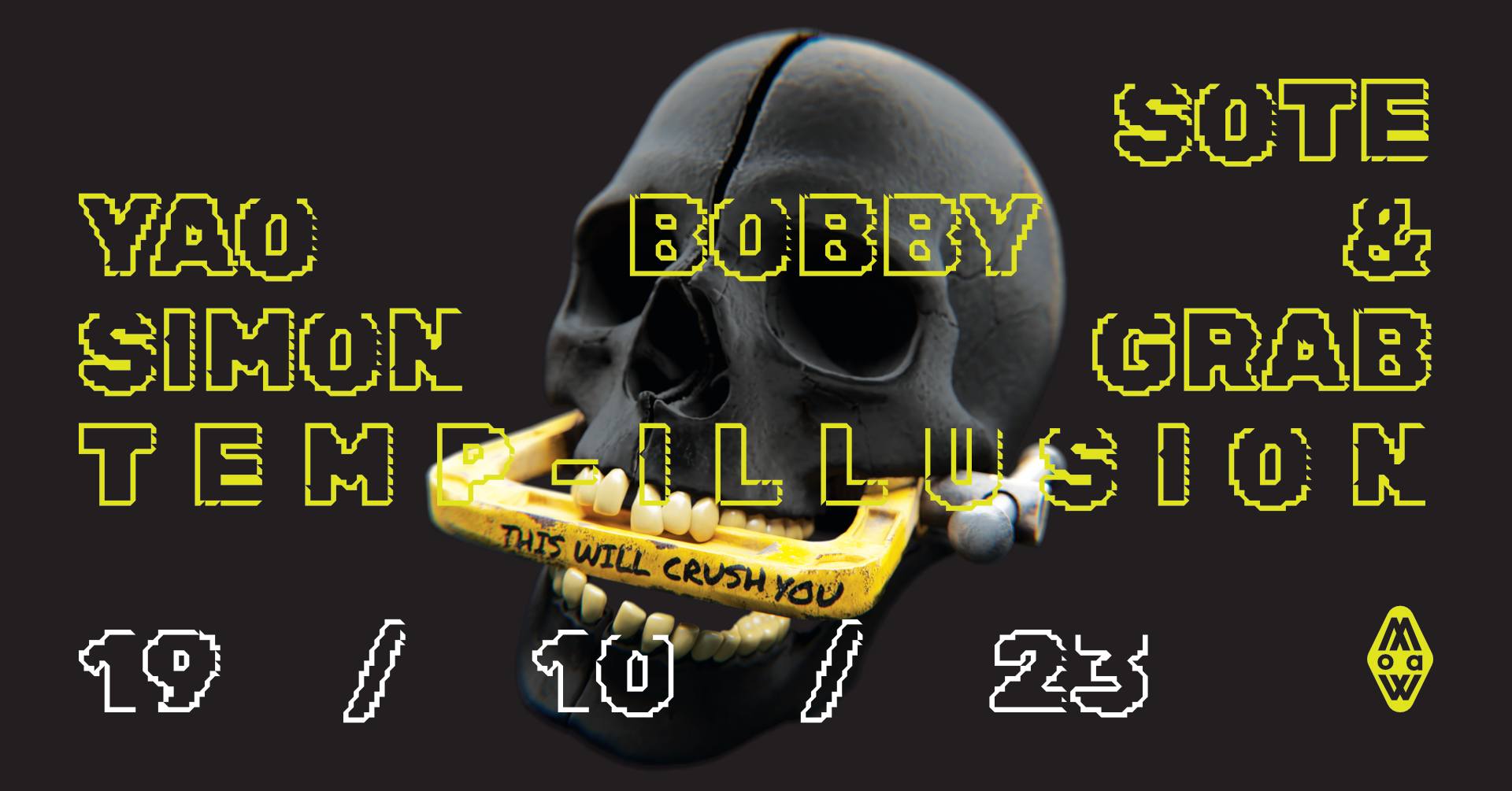 Music On A Whim and Brasserie Illegaal are thrilled to present an evening of bleeding edge electronics, freeform rap and noise. We use the tag line 'This will crush you' as an apt description of the harsh, frenetic, ferocious, yet utterly engrossing and polyrhythmic panoramas these incredible artists will open up for the audiences.
PREPARE TO BE OBLITERATED.
Tickets – Pre-sales at €10 euros suggested price (Pay what you can).
CASH ONLY at the door.
Doors – 19 30
Food Truck that will be serving hot food!
SOTE (IRAN)
A driving force behind Tehran's vibrant electronic music scene, Ata Etbekar, better known as Sote, has a wide-ranging love of rich sounds and textures that is embodied in diverse paths such as hardcore club sounds, collaborations that straddle (traditional) acoustic and electronic instrumentation, and solo experimental electronics – making Ebtekar equally at home in concert halls, galleries, or clubs. Over the last two decades, he has released on labels such as Warp, Sub Rosa, Morphine, Diagonal, and Opal Tapes.
Many of his daring compositions revisit traditional musical material and playing techniques and subject them to digital manipulations to achieve radically contemporary forms that range from the delicate to the abrasive, and display a unique ability to convey intense yet contrasting emotions. Much of Sote's output deals with a continual exploration of a relentlessly maximalist aesthetic – as heard on a record like Hardcore Sounds from Tehran, which was listed on The Quietus' Top 100 albums of 2016, and saw Sote re-invent high-energy banging hardcore by twisting it into challenging rhythmic and sonic structures.
Sote will give a taste of new live material in the works, creating a hellish club inferno that picks up from the polyrhythmic madness of his seminal release, Hardcore Sounds from Tehran.
YAO BOBBY (TOGO) & SIMON GRAB (SWITZERLAND)
The Togolese Rapper and political activist Yao Bobby collaborates with Swiss noisemaker Simon Grab. An intense soundbattle between energetic rhymes fired into a dark sound world of raw electronic bass pulsations with a dubby punk attitude, produced on analog feedback electronics. Their show is a very raw and improvised form of live experimental hiphop, Freeform Rap and Noise.
Place them in raves or clubs, on small or big stages, in a context of electronic bass music, hiphop, techno, industrial or experimental – the audience will experience a raw and intense bass and beat driven soundsystem vibe with wild and wicked rap vocals. People who listen to Nyege Nyege artists like MC Yallah, Slikback, Ecko Bazz can relate to and mostly know their music. Bass music addicts who listen to The Bug, Flowdan, Scorn, and lovers of experimental hip hop like Dälek, Clipping, Model Home or Moor Mother understand their vibes.
« This is music that stands up to our modern madness while providing a gloriously righteous salve." The Wire Magazine « 
As a collaboration, they are just unlike anything else. Highlight of the year!" Anthony Chalmers, Baba Yaga's Hut London
TEMP-ILLUSION (IRAN)
Temp-Illusion is an Iranian experimental/electronic duo consisting of Shahin Entezami and Behrang Najafi, both natives of Tehran, Iran. They use a wide range of music programs and hardware synthesizers in their music production to combine noisy and atmospheric layers with melodies and complex beat programming to achieve a unique style of dance music.
Temp-Illusion are mainly known as a live band, and they have performed in various shows and festivals such as Roskilde Festival, MUTEK Tokyo, CTM festival, and SET Festival among others. So far, they've released two LPs, "Autolected  » and "Pend  », and a remix album "Pend [reworks]" on Opal Tapes.
"The apocalyptic, bass heavy grooves they muster become almost all encompassing, but their compositions are far from monochrome. Each is suffused with microscopic details and patterns, and surprising left turns into moments of melody and harmony against the rhythmic superstructures", Daryl Worthington, The Quietus
Artwork by the extremely talented Eltons Kūns.