NSB23 REBEL UP / BRASSERIE ILLEGAAL
14 octobre-22 h 00 min

-

15 octobre-5 h 00 min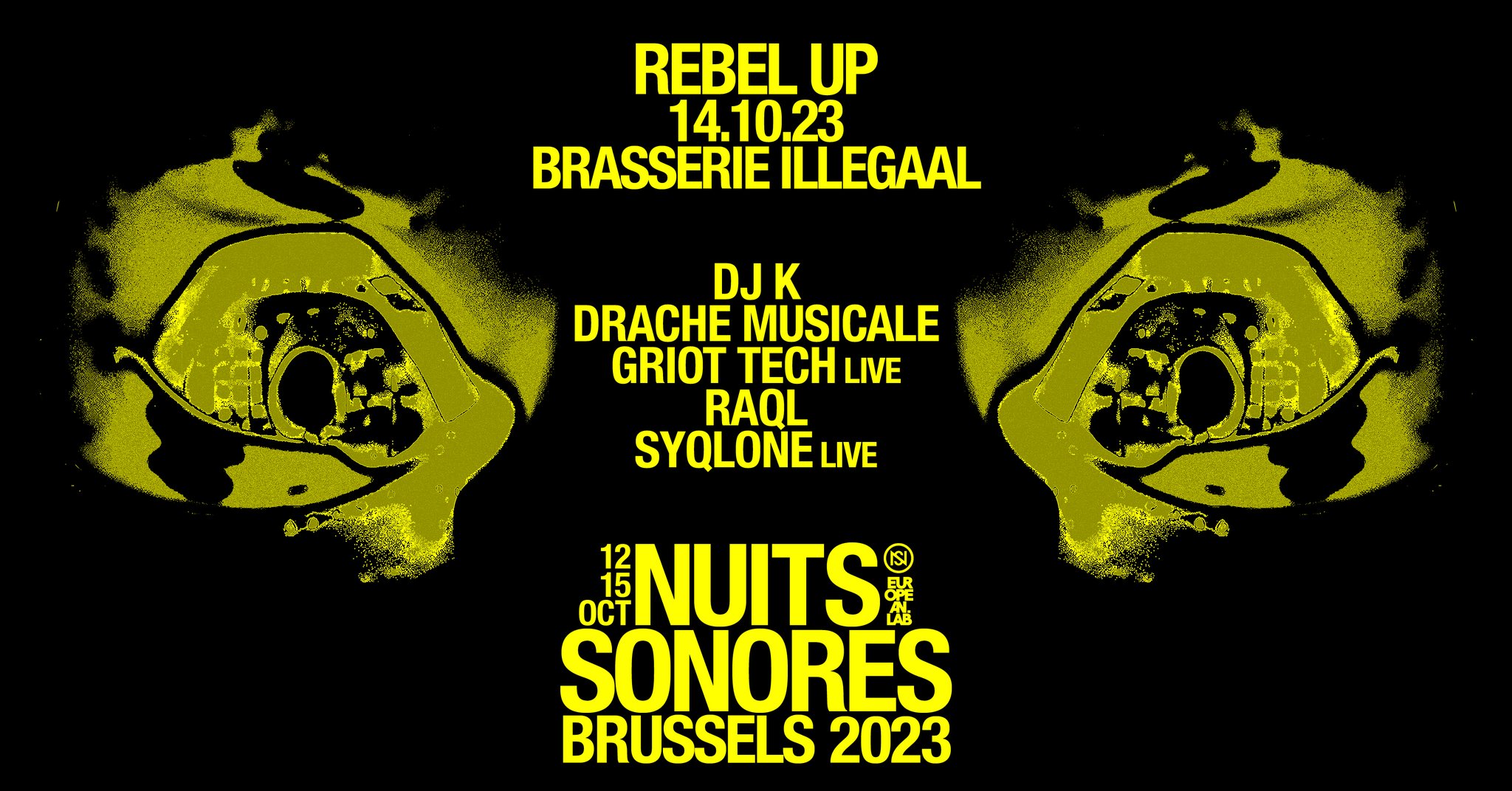 #NSB23
▔▔▔▔
From 12 – 15 october, Arty Farty Brussels and Bozar are back with Nuits Sonores & European Lab Brussels 2023. An urban festival spanning four days of music, debate & experiment in some of Brussels' key venues.
Rebel Up!
▔▔▔▔
Rebel Up has become a household name in the world of underground global music in Brussels. Their sets and party nights are a global and political culture mash of global sounds spiced with contemporary urban & bass sounds with traditional ethnic reflections from all corners of the world, from African to Arabic, Latin American, Caribbean, Eurasian and far Eastern movements and scenes. The cultural diaspora does not need to be defined by borders, the Rebel Up sound is free, varied and up to date in one roundtripping global sound! Led by Sebcat, they host the Globaal Illegaal party nights at Illegaal, as well as being part of Giraffes & Penguins and Festa Afro Tuga. They host radio shows and residencies at Kiosk Radio, Radio Campus Bruxelles and BRUZZ.
Since 2018 Rebel Up also became a record label, with a focus on releasing music by local Brussels artists as well as from allover the world. Traditional? Jazz? Grooves? Electronic? Bass? It's all there.
For their events, Rebel Up always has a keen eye & ear for inviting fresh and upcoming artists from the global scene for their 1st gigs in Belgium. On this night for NSB23 it's no different, giving Belgian debuts to SYQLONE and DJ K.
Brasserie iLLeGaal
▔▔▔▔▔▔▔▔
Since 2016, this Brussels' micro-brewery has been supporting artists and socio-cultural projects. It is a vehicle for exchange, sharing and meeting through its events and favours alternative venues and partners.
That's why it organises convivial and festive events where art is expressed loud and clear. The brasserie also prides itself on co-producing numerous films and tours, always with a view to promoting culture. With good reason, their motto is: "brewing for culture".
Line-up
▔▔▔▔
22:00 – 05:00
DJ K
Drache Musicale
Griot Tech (Sebcat & Kaito Winse) (live)
SYQLONE (live)
Raql
Info
▔▔
Rue Bollinckx, 300
1190 Forest, Brussels