iLLeGaaL SLICE w/ Lauren Duffus + Mab'ish + NDUNGU + DDVRKK + Dragan Zaranoff + Sauce
6 mai-19 h 00 min

-

7 mai-5 h 00 min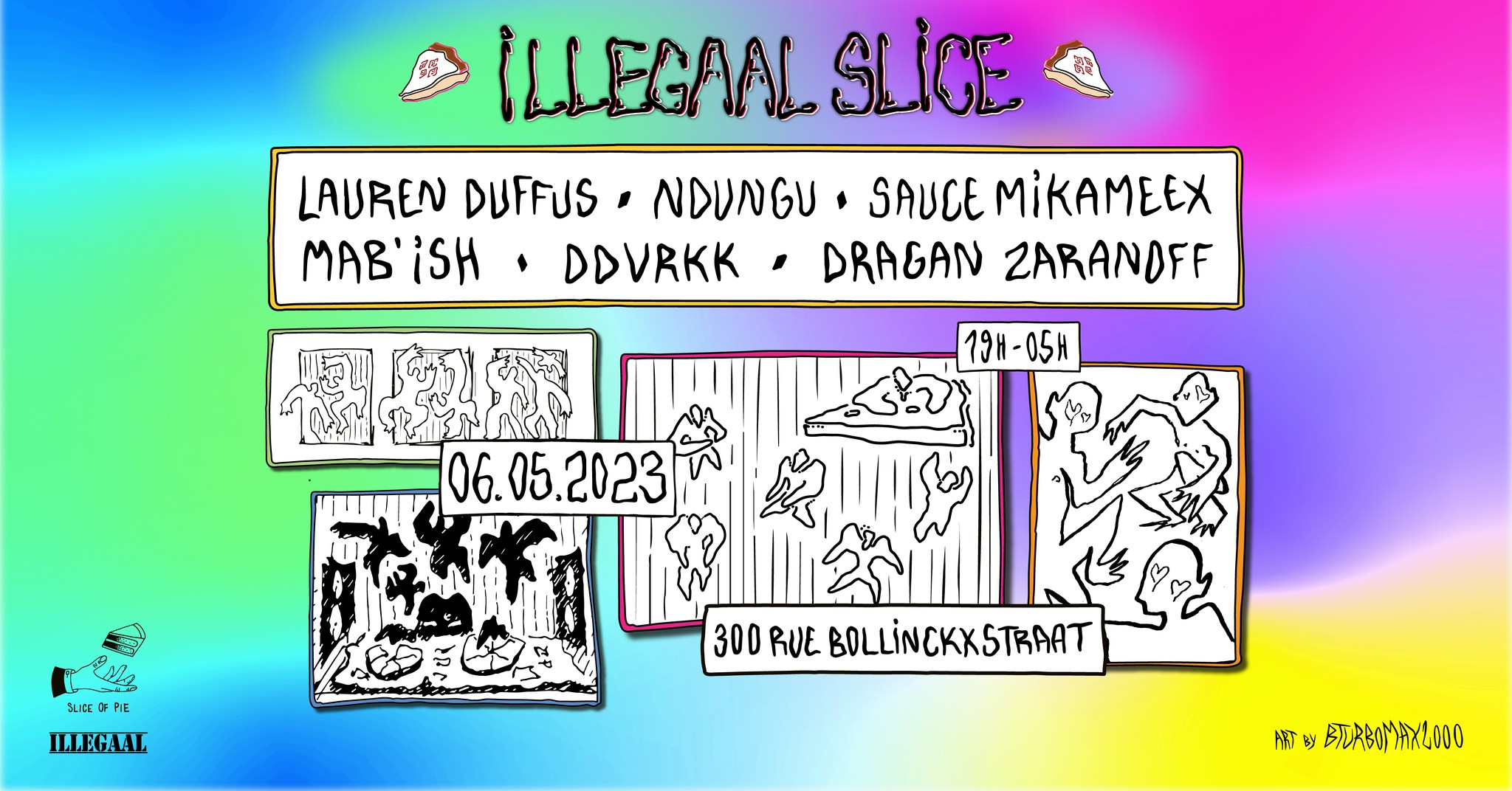 For this second collaboration with iLLeGaal Brewery, we're throwing an all-nighter !
LAUREN DUFFUS (uk) (LIVE/DJ set)
MAB'ISH (DJ set)
NDUNGU (DJ set)
DDVRKK (DJ set)
DRAGAN ZARANOFF (DJ set)
MIKAMAYONNAISE b2b MEEX (DJ set)

We will start early and have everything set to keep you fed and hydrated before dancing all night long to the DJ performances.
Each artist will showcase his very own particular universe.
From introspection to mind-relief rituals, Music can bring you on a journey full of contradictive but satisfying emotions. It has the power to call on these various feelings and turn them into something that makes sense, despite everything we could worry about.
Everything seems to be lighter to bear, and dancing becomes cathartic.
We invited a few DJ/artists to convey their feelings towards your inner self. Come discover their world.
Laid back, ambient, high energy, melodical, we'll go through various atmospheres.
Saturday 06 May 2023
From 19:00 until 05:00
Drawings by @bturbo2000
Layout by @meexdub
RA event : https://ra.co/events/1700418
PRACTICAL INFO :
📍 BRASSERIE ILLEGAAL
300 Rue Bollinckxstraat – 1190 Forest/Vorst
💵 Suggested price : 10€ – Cash or QR code only
🍴 food and drinks available
——————————
🚲 Parking vélo/fiets
🚂 Forest-Midi station : 4min te voet
🚌 Bus 73 (Midi Station – Ceria) – Stop INTERNATIONAL
🚌 Bus 78 (Midi Station-Humanité) – Stop BOLLINCKX
🚃 Tram 82 (Berchem Station-Drogenbos) – Stop MAX WALLER
Brought to you by Illegaal, Meexbookpro & GÉNIAAL ASBL/VZW