ILLEGAAL FESTIVAAL #3
29 avril 2022

-

1 mai 2022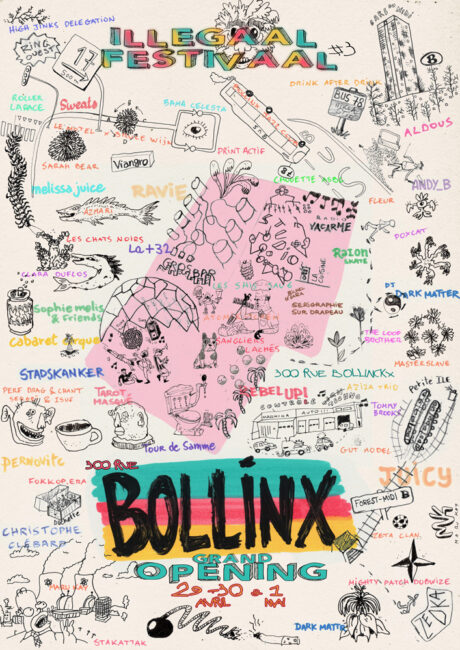 Friends & Ennemies, 
As all of you may know, It's been a few years that we're passionnely working on our new place, a real Brewery in Brussels, in the middle of nowhere. 
So for the Big Opening we have decided to organize our new  « iLLegaaL FestivaaL » with some new artists, new partners, new speciaaL surprises. 
Of course it's free for all, 
We will have lot's of new beers, new sounds, news projects 
So be ready for it, 
Be ready to dance, 
The party will shine till the end 
Big kisss, Big love and see you on ! 
▬▬▬▬▬▬▬▬
PRATIEKE INFOS
29,30 avril & 1er mai 2022
16:00 – 04:00
Rue Bollinckx, 300. 1190, Forest. 
FREE ENTRANCE
TIMETABLE :
▬▬▬▬▬▬▬▬
FRIDAY
16:00 – 18-00
RADIO VACARME
http://radiovacarme.com/
18:00 – 18:45
FLEUR – VACARME
19:30 – 20:30
HIGH JINKS DELEGATION – CHOUETTE ASBL
20:30 – 22:30
MIGHTY PATCH DUBWISE
22:30 – 00:30
DJ DARKMATTER
00:30 – 02:30
BAMA CELESTA
02:30-04:00
MASTERSLAVE
▬▬▬▬▬▬▬▬
SATURDAY
16:00 – 17:30
RADIO VACARME
http://radiovacarme.com/
▬▬▬
Brasserie
17:30 – 18:15
GUT MODEL – CHANOIR
19:00 – 19:45
+ 32
https://www.facebook.com/laplus32
20:30 – 21:15
STADSKANKER – STAKATTAK
https://www.stadskanker.com/
22:00 – 22:45
CHRISTOPHE CLÉBARD
https://www.youtube.com/watch?v=PeucDGalsiM
23:00 – 00:30
PERNOVITC
https://www.youtube.com/watch?v=3eV0JMPISmk&t=9s
00:30 – 02:00
MELISSA JUICE
https://www.facebook.com/melissajuicedj
02:00-04:00
POXCAT – VACARME
http://radiovacarme.com/
▬▬▬
Street
16:00 – 16:30
DRINK AFTER DRINK – RAVIE
https://www.facebook.com/asbl.ravie
16:45 – 17:30
SARAH BEAR
18:15 – 19:00
LES VILAINS CHICOTS FANFARE
19:45 – 20:30
ANDY B
21:15-22:00
JUICY
https://www.youtube.com/watch?v=if9D16uxNkE
▬▬▬▬▬▬▬▬
SUNDAY
16:45 – 17-30
RADIO VACARME
http://radiovacarme.com/
▬▬▬
Brasserie
16:00 – 16:45
THE LOOP BROTHERS – TOUR DE SAMME
https://www.youtube.com/c/FestivaldelaTourdeSamme
17:30 – 18:15
DARK MATTR
https://www.facebook.com/darkmattr.info/
19:00 – 19:45
TOMMY BROOKS
20:30 – 21:15
SHOW DRAG Collectif Les Bastards
Belligerency & King Kovaci
VACARME
22:00 – 22:45
(SURPRISE) REBEL UP
https://www.facebook.com/RebelUpSound/
22:45-00:00
REBEL UP
▬▬▬
Street
16:45 – 17:30
AZIZA TRIO
http://azomusic.com/
18:15 – 19:00
CABARET CIRQUE
19:45 – 20:45
ZETA CLAN
https://open.spotify.com/artist/5qarVUVyYnVWPiUPJth1Le
21:15 – 22:00
SWEATS
https://www.instagram.com/sweatsband/