CRAZY LAST ILLEGAAAL PARTY OF THE YEAR
2 décembre-20 h 00 min

-

3 décembre-8 h 00 min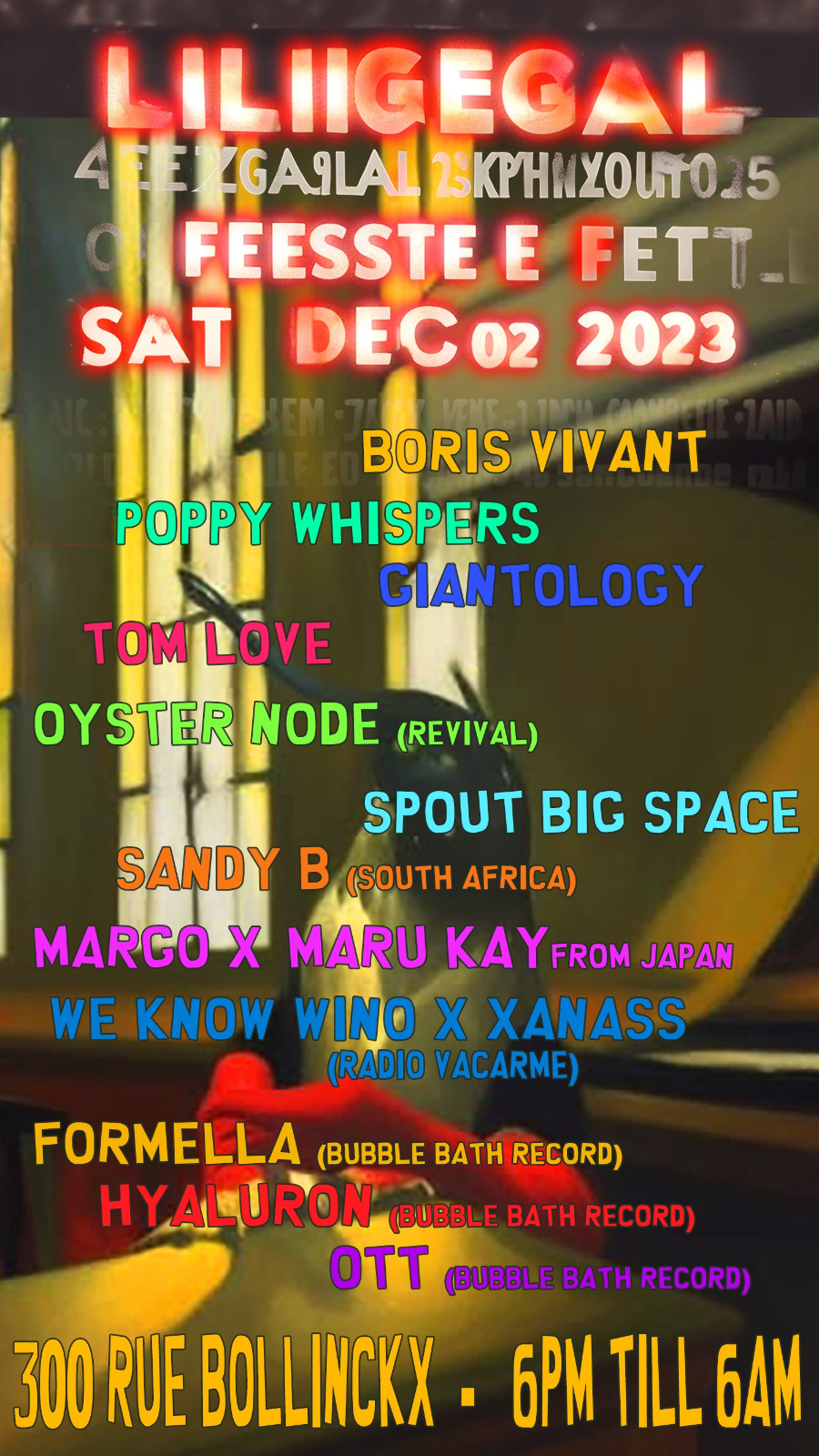 Tchoutchouuuuuwouwouwouuuu …
C'est le bruit du train que tu veux pas rater !
Il va falloir que tu nous fasses confiance et que tu arrives toooot,
L'Illegaal crew t'embarque dans un trip intergalacticoloco de 13 heures chrono,
Pour quelque part… ou le temps n'existe pas!
Prépares toi à voyager entre
Bruxelles, Berlin, l'Afrique du Sud et le reste des mondes
Tu vas vivre la meilleure des journées la nuit,
On va éveiller tous tes sens et réveiller tes curiosités à l'infini…
____________________
Boris Vivant
Poppy Whisper
Giantology
Fruit Machine
Oyster Node (Revival)
Spout Big Space
Sandy B (Afrique du Sud)
Margo x Maru Kay From Japan
We Know Wino x XANASS (Radio Vacarme)
Formella x Hyaluron x OTT (Bubble Bath Record – Berlin )
____________________
Boris Vivant
Poppy Whisper
https://poppypopkusse.bandcamp.com/album/aborn-belly-demo
https://www.youtube.com/watch?v=isrre1Y3vdE…
Giantology
https://www.youtube.com/watch?v=0c6if7-O6jc…
Oyster Node ( Revival )
https://www.youtube.com/watch?v=BDvHZIEN8vY
One of the biggest band from Brussels is back to make groove more than ever.
Be ready for that big come back. It will maybe explose …
Spout Big Space
The recipe of the group? Rock, rock, a dash of alcohol, a touch of romance, a spoonful of perversity and a good dose of energy.
https://www.youtube.com/watch?v=3SfgBHtikv8…
Sandy B
from South Africa fête les 30 ans de la sortie de son premier EP, Illegaal est l'endroit idéal pour ça
In the early 90s when Kwaito music was being introduced by Johannesburg based labels like Kalawa, 999 and a few others, in his province KwaZulu Natal in the city of Durban Sandy B spontaneously recorded a track called Amajovi Jovi.
https://www.youtube.com/watch?v=DGxz78n_ovw…
Fruit Machine by Tom Love
Coming From the underground of London, Tom Love is probably the human with the must beautifull voice.
https://www.youtube.com/watch?v=_jE5l8ylK0o&t=10s
Margo x Maru Kay From Japan
are the 2 favorite Dj's of the house, They are probably giving a lot of taste to our beers. Their music are like a magical trip to Nevada :)))
https://soundcloud.com/margo1000?ref=clipboard&p=i&c=1…
We Know Wino x XANASS ( Radio Vacarme )
RADIO VACARME (RV) is a non-profit organisation that promotes feminist and queer artists, in Belgium and abroad.
https://radiovacarme.com/
Bubble Bath Record present Formella, Hyaluron & OTT
We have been putting on events in and around Berlin for over five years, at clubs such as Remise, OXI, Zur Klappe, as well as showcases at IfZ and About Blank and have also built up a good following through our SoundCloud mix series. We have some exciting projects on the horizon, such as launching a label and looking for opportunities to bring our sound and vibe to other cities and venues.
Our sound focuses on a cross section of high energy sounds, ranging from electro and breaks, through techno and rave, to more trance-y and progressive sounds. Our booking takes a varied approach, looking to bring together international and local, established and up-and-coming artists.
https://www.instagram.com/formell.a/
____________________
Delicious Food By WainWain la Paillotte!
6PM TILL 7AM
Rue bollinckx, 300. 1190 Forest
Come by train, bike, bus, balloon
____________________
& big thanks to Sacha for the crazy flyer