ALLIANCE CLUB @ILLEGAAL
20 juillet 2022-18 h 00 min

-

1 h 00 min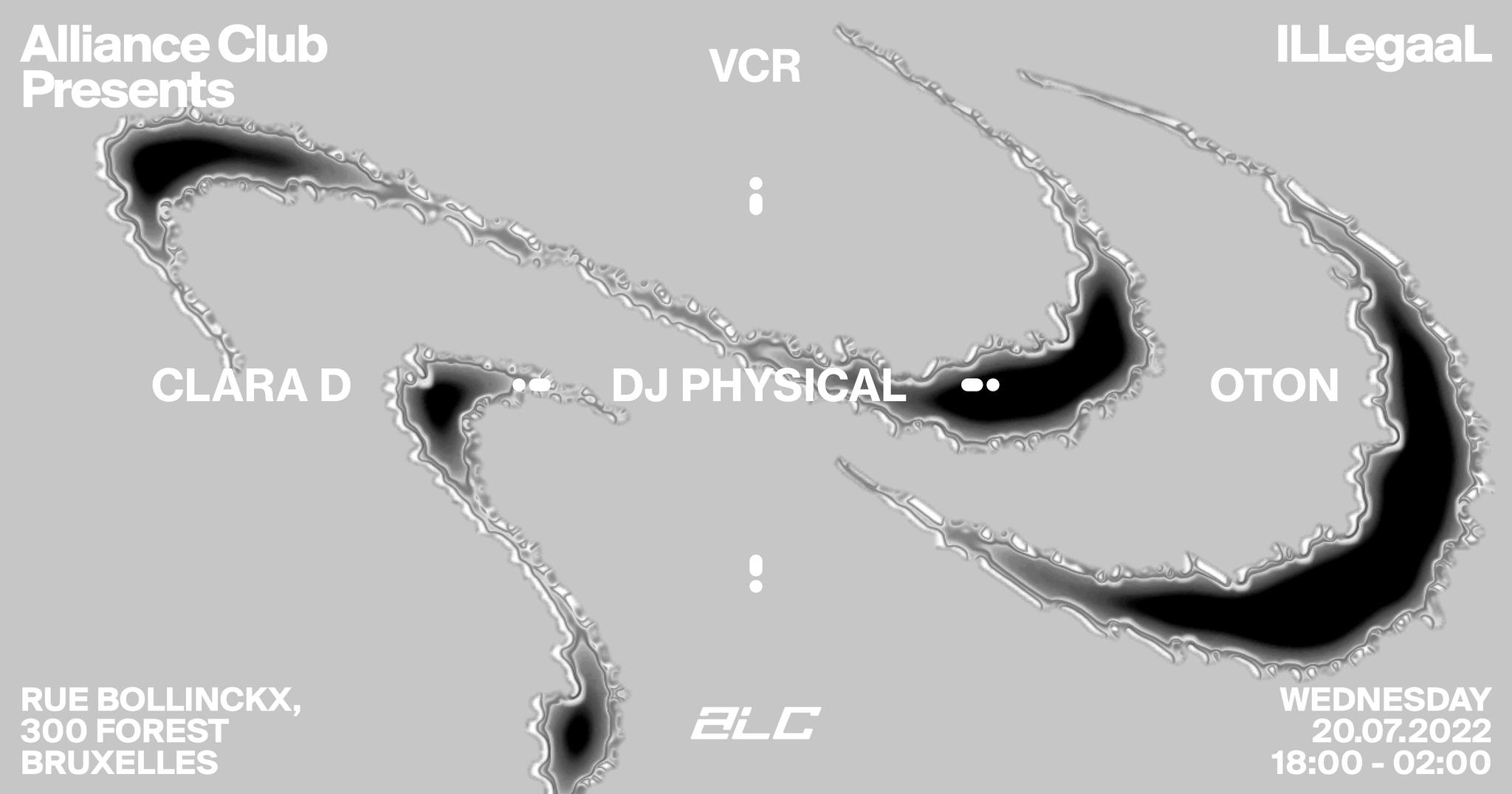 ✹✹✹
Due to too many complaints from residents and neighbours, Jardin Hospice has been forced to stop its musical events activity. They have therefore taken the decision to cancel our Alliance Club Party on 20.07.22, much to our regret.
Determined not to give up, we maintain this ALC Party and redirect it to the ILLegaaL brewery who warmly opens their doors to us.
Same date, extended hours, extended line up.
While we wanted to offer a free event, this situation causes an extra cost that we can't absorb without asking you for a 5€ entrance fee. But we know that we can still count on all of you to come, dance and party with us ♡
✹✹✹
For this special occasion, label's head OTON is inviting Dj Physical from Paris who just released an album on unmissable label Shall Not Fade as well as an EP on Lobster Theremin. VCR (Sono Ventura/ Monkey Parade) will be opening the party following by Clara D (C12) and OTON (Alliance Club/ Lobster Theremin) will be closing it with a Live set.
Absolute blends of Techno – Electro Breaks – Jungle – Fast Techno – Trance – Psy.
L̠͔͓̱͙͓̲͚̙̠̋̀̍̋İ̲̲͍͇͈̗̙̠͎̪̆͗̒ͅN̯͙͔̙͙̲̝̦̱͍̝̿̎̐̉̔͋͋̚E̘̞̩̞̳͙̙͇̮͙̓͂͑̽̒̒̋͆̿ U̥̥̰̗͓͙͙̳̳̐̈́͆͆̚P̞̬͍̰̟̎͌̓̋
—-
Ï̸̛̻̆NF̸̆̍O̷S̷͛
Entrance: 5€
Address : Rue Bollinckx, 300, Forest, Belgium
Safe place for everyone – Watch out for your friends and other – Positive Energy Only – LGBTQIA+ friendly – Any disrespectful behaviour of any kind won't be tolerated at all.
—-
Ȁ̵̄̇́̀͌C̶̖̓̀̿̽̏̓C̵ES̵͕̙͍̮͐ͅS̴̛
➞ Forest Midi Train Station (2min walking)
➞ Line 73 (Gare du Midi – Ceria) – Stop INTERNATIONAL
➞ Line 78 (Gare du Midi – Humanité) – Stop BOLLINCKX
➞ Tram 82 (Gare de Berchem -Drogenbos) – Stop MAX WALLER
➞ Tram 97 (Louise – Dieweg) – Stop MAX WALLER
—–
Much love ♡♡♡
Á̯̖̟́̀̔́̿̋͌ͅL̗̫̙͕̙̮̜̠̱̟͆͌̂̔̉C͇͖̙͖̫̱̈́̂͌́ Ĉ̣̜̫̥͆̅̏̆͌́͊̋̃͆̔R͖̦̪͕̟̖̦͇̭̅͒̊́̃͒̽̉͐̆̅̈́É̮̬̰͎̤͔͓͕̤̭̯̫̩̱͐̌̄̿W̙͍̳͚̝̘̬̿͛̄̍͌͆